Exalted, You Just Want Me Because Of My Essence...
Solars
It should be noted that nearly all of this information is metagame information. Unless your character has a lore of at least 3 you will know next to nothing of this, and even with a high lore your known information would be extremely limited. Remember many of these groups, especially the Sidereals & Abyssals are completely hidden societies of witch even the most learned person would know only vague probably incorrect rumors.
Solars, Exalted of the Unconquered Sun


Known also as the Lawgivers, these Exalted are teh champions of the Unconquered Sun. Once the masters of Creation, the Solars were betrayed and usurped by their trusted advisers and soldiers. Most Solars were unable to be reborn until recently, and the Wyld Hunt was organized to slay those few who did find a way to reincarnate.
Abyssals, Exalted of the Malfeans


Also called deathknights, these Exalts are the champions of the Deathlords and their Neverborn masters. The Abyssal Exalted have only recently appeared, but they appear to be dark reflections of the returned Solar Exalted, with dark mockeries of the Solars' cast marks, animas and even Charms.
Sidereals, Chosen of the Maidens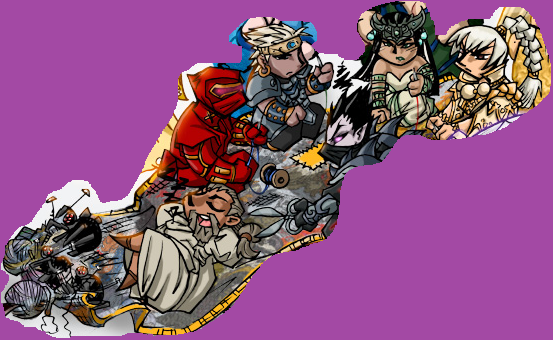 The Sidereals are the champions of the Five Maidens. The Chosen of the Maidens are the savants and astrologers of the Exalted, as well as matchless martial artists. It was the Great Prophecy of the Sidereals that led to the murder and usurpation of the Solar Exalted, and the Sidereals have lurked in the shadows since then, manipulating the course of not only the Realm, but Creation as a whole. The Sidereals have been split into two factions, Bronze and Gold, since a disagreement over the fate of the Solar Exalted 1,500 years ago, and the Solars' return has led to a renewal of outright hostility between the two groups.
Lunars, Champions of Luna

These mighty savages are the champions of Luna. The Lunars were once the mates of the Solar Exalted, as well as their bodyguards and commanders of their armies. The Lunar Exalts either fled to the hinterlands of the Threshold after the murder of the Solars or died alongside their mates in futile battle. Today, most of these shapeshifting warriors live as barbarians, blaming the downfall of the Solars (and even their inability to save them) on civilization's softening effects.
Terrestrials, Champions of the Five Elemental Dragons

Also called the Dragon-Blooded, these are the champions of the five Elemental Dragons. For the last millennium and a half, they were the unquestioned rulers of Creation itself. Despite being the weakest Exalted in terms of raw power, the Terrestrial Exalts are the most numerous by far. Once the soldiers of the Exalted armies that fought the Primordials, the Terrestrials murdered the Solar Exalted at the behest of the Sidereals and took over the reins of Creation.