Exalted, You Just Want Me Because Of My Essence...
Gods, Spirits, Elementals and Demons
The following lists mostly metagame knowledge of spirits in general and explains the differences in them. It can be assumed that much of what is written down here is occult 3-5 information. The average person in Creation knows little about spirits, except that they exist, you are not supposed to mess with them, they are otherworldly and problematic bordering on dangerous. Much of the world believes that any sort of worship given to a spirit, from sacrifices to thanks, is heresy. This is all vastly dependent on the culture however, as individual cultures may approach a type of spirit in a very specific way, often using completely different terminology for them. Many are the cultures in the world that refer to all spirits that live around a river as a river spirit, weither it is a little god, a elemental, or someones ghost haunting the river.
Of special note is the term "demon". Demon here is talking about actual demons, the children of the yozi aspects. For the most part demons as they are presented here are unknown and undifferentiated to anyone but the learned, and even then specific information is varied. Almost all of creation refers to any sort of supernatural menace as a demon, weither that be a rogue evil spirit, a solar exalted, or an actual demon from malfease.

Spirits-A loose term used to describe individual beings made purely of Essence. The term is most often applied to any of the gods that aren't the Celestial Incarnae themselves, meaning little gods. However the term is often used to refer to all beings of pure essence collectively, including gods, little gods, elementals, demons & ghosts. All spirits have a tie to their existence that brings them back from what mortals consider death. Due to this it is very hard to truly destroy most spirits. Practically all forms of spirits are obviously magical in nature, though there are a few rare examples witch can conceal this for short periods of time.

Gods-Formed out of will and Essence, each god hs a name and a purpose, a sphere of influence and a position in a hierarchy in witch it governs Creation. The purpose that defined a god becomes its nature, and it's power is generally fueled by worship and the strength/size of it's sphere of influence locally. Spirits tempermint is related to their sphere of influence, but is far less homogeneous then an elementals. Their emotions and thoughts can be very complicated, and when mixed with their immortal mentality and nature it can cause complications when dealing with the living. Gods are naturally immaterial and it requires essence use for them to materialize and interact with the world. Gods have a sanctum in witch they reform when destroyed and it is located in Elsewhere.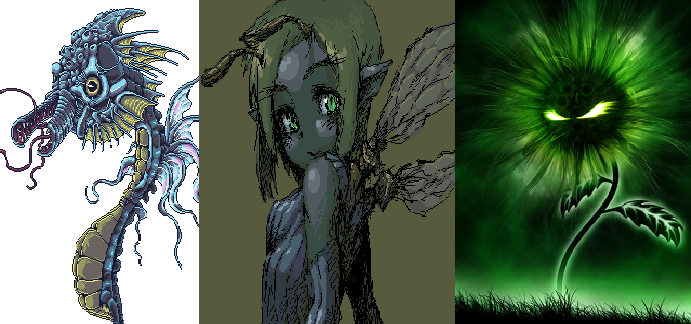 Elementals-Corresponding to one of the five aspects of Creation, Air, Water, Fire, Earth & Wood, elementals are a living embodiment of the principle of that element and their primary purpose is to maintain the natural order of creation. The stronger a elemental is the more complex it's feelings and opinions are on thing. The main way a elemental gains in power is in age and the flow of essence in creation changing either naturally or from geomantic means. A interesting side effect of an elementals growing power is that the being can physically change a great deal, very powerful elementals being able to fit into only one type of form, that of a dragon. Elementals are naturally material, but being spirits they can with the expenditure of essence go immaterial and be out of the influence of the material world. Elementals have a sanctum in creation that they reform in if they are destroyed. While the sanctum is in the material world it is warded and by its nature is hard to locate and enter without magic.

Demons-When the primordials were beaten those that were enslaved became the yozis, the broken apart aspects of the great primoridals. Demons as they are referred to are different creatures based on their tier. Demon Princes are one of the 7 aspects of a primoridal, 3rd circle demons are one of the 7 parts each of those aspects have, and 2nd circle demons are one of the parts of 3rd tier demons. Finally below that are the 1rst circle demons, witch are the least aspects of the 2nd tier demons, neither limited to in numbers or in mindset. All 2nd circle and greater demons are unique individuals with specific personality's, drives and in many ways function like Gods. 1rst circle demons however are better viewed as individual races of creatures, they repopulate by various means and when killed truly die. 2nd circle and greater demons are nearly impossible to kill, and when slain simply reform in Malfeas. All demons are bound to exist in Malfeas.
Ghosts-These immortals are unique in the group of Spirits because they are not naturally that way. A Ghost is the higher soul of a mortal (or exalt) that has resisted the wheel of reincarnation and stayed in creation, though usually the underworld, despite it's body dying. Ghost are tangible in the underworld or shadowland, but in Creation they are intangible and slowly waste away. Most ghosts are visually little different then when they died, however as a ghost grows in power, usually from age and ancestor worship, it's form mutates and changes, becoming less and less human. Ghosts are naturally drawn towards their past lives and their ancestors. They also suffer from a form of mental stasis and are extremely limited, often incapable, of progressive creative or artistic thought. When a ghost dies it reforms near a fetter, an object/place/person that has great meaning to the ghost. If there are no fetters or if the fetters are weak or too far away a ghost might not be able to reform and will automatically go into the cycle of reincarnation. Ghosts can sometimes be convinced or appeased to accept their fate and enter the cycle of reincarnation. The most terrifying possibly for a ghost however is that of oblivion. The longer a ghost exists in the underworld the more likely it is that the whispers of oblivion will reach it, and then the poor creature is doomed to a spiral into insanity ending it complete annihilation.